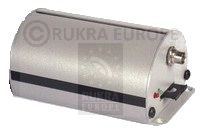 Productinformation
The

RUKRA

GPRS

cellular modem

is used in

the Call Centre

to send and receive

text messages

and

for receiving the free

emergency calls

and

service-call

(3-

day test) the

call is not answered so it is FREE of charge

.
The GPRS cellular modem is connected via a serial RS-232 cable to the serial COM port of the computer.
The modem is plug and play and there is no software to be installed.
Technicall
TECHNICALL
• Powersupply: 230VAC / 12VDC
• Sim-Card: 3V/1,8V
• Frequency: GSM900/1800
• Rate: Adjustable 300b/s – 115kb/s, automatic detection of com.rate (from 4,8 kb/s)
• Connection PC: RS-232
• Antenna: FME (f)
• Size: 100x74x29 mm
• Article number: RK-1302