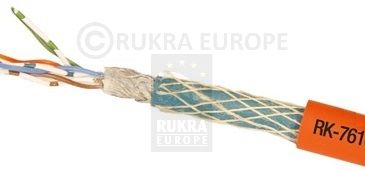 Productinformation
The
RUKRA
Elevator
cables

with strain relief

are
specially designed for use
in elevators
with a maximum
spacing of
100
meters.
The cables are suitable for indoor and outdoor installation, in dry and wet locations.
The
RUKRA

elevator

cables

suitable

for

connecting

:
The cables are all weather, UV and oil resistant
Technicall
Structure

:
ESSENTIAL LINE FD P CAT6e 4X2XAWG26
• Core identification: blue, white, orange and white, green and white, brown and white.
• Kevlar braid 16 wires (tensile 7kg per thread)
• Nitrile smooth outer shell wall thickness approx 1.8mm
• Outside diameter approximately 10.5mm
• Articlenumber: RK-7612