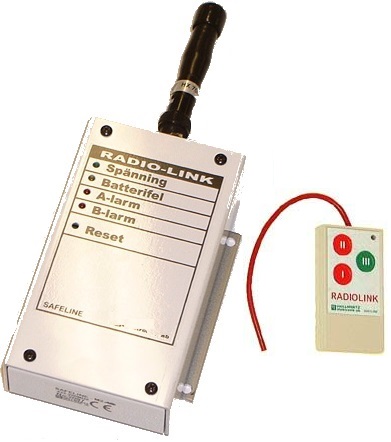 Productinformatie
RUKRA DIGIT IO_02 is een systeem bestemt voor draadloze overdracht van een of twee functies vanaf een handzender naar een vaste ontvanger.
Overdracht gebeurt door een 2-weg radio communicatie.
De zender eist een bevestiging van de ontvanger om te mogen stoppen met het zenden van een commando.
Het bereik tussen de zender en ontvanger is ongeveer 400 meter in het open veld en kan met behulp van richtantennes vergroot worden tot 2 kilometer in het open veld.
RUKRA DIGIT IO_02 kan gebruikt worden voor vele toepassingen waar u op een grotere afstand een alarmoproep wilt doorgeven of apparaten wilt bedienen.
Typische toepassingen zijn nood-alarmknoppen in winkels, benzinestations of gemonteerd op een rolstoel om alarm te slaan en deuren te openen,
Het is ook geschikt voor mensen die alleen werken en die een alarm willen geven, poorten en deuren op lange afstand openen, verlichting achter in een weiland of sportveld verlichting schakelen, op afstand liften oproepen of uitzetten etc. etc. etc.
Specificatie
TECHNISCH
 

• Voeding: 10 –30V DC

• Uitgang: 2 x wisselcontact / 1A/48V DC

• Stroomverbruik: Rust: 30mA / Actief: 60mA

• Schakelafstand: 0-> 2000 m, afhankelijk van het zicht en de toegepaste antenne

• Afmetingen bxhxd: 80 x 112 x 30 mm

• Omgevingstemp.: -20 tot 70° Celsius

• Artikelnummer zender: RK-3006

• Artikelnummer ontvanger: RK-3005